Reflections from a Clockwork Phoenix
by mallen | March 8th, 2011 |
(Eds. note: Interstitial March co-editor Mike Allen, previously profiled in our "Meet the IAF" series, shares reflections on assembling Clockwork Phoenix: Tales of Beauty and Strangeness, the anthology series he edits that toys with interstitial elements.)
As I help to compile this year's batch of Interstitial March entries, the words of a number of artists resonate for me on a personal level. When Colette Fu writes, "It's not easy to explain what I do to other people, even artists," I'm reminded immediately of my own halting attempts in early 2008 to explain to other writers and editors what the Clockwork Phoenix anthology series would be about. When Cecil Castellucci writes of her interest in "playful artistic games," I think, Bingo!
As I write this, the Clockwork Phoenix anthologies are on pause. I took a sabbatical after the third volume came out to finish my too long neglected first novel, and in the meantime, the kind of thing you hate to see happen happened. My publisher, Vera Nazarian of Norilana Books, who has been very good to me, was beset with severe financial difficulties that for now make a solid commitment to a fourth volume unwise. These things happen in the world of publishing and in the world of the arts. Companies and non-profits cut back, editors change jobs, government grants get discontinued. That's just how it is, and we deal with it as we have to.
All things considered, this does seem like a good time to reflect on what can be done with an interstitial project. Get rich? Heck, no! Get starred reviews in Publishers Weekly? Stories reprinted in Year's Best volumes and nominated for awards? Those things, we managed, and I suspect we're not quite done yet. Offer discerning readers some refreshingly different and thought-provoking fodder? I'd like to think we pulled that off.
Beautiful subversions
Mind you, I don't claim Clockwork Phoenix is capital "I" Interstitial. The volumes don't challenge anyone's notion of what a book is, or what an anthology is. They might, however, challenge someone's notion of what a story is. I offer as anecdotal evidence this reaction from Ian Randal Strock, a veteran genre editor, once on staff at Analog: Science Fiction and Fact, then editor of the hard sf magazine Artemis, now editor of the news site SF Scope, where this appeared.
Perhaps the anthology would be better served (or at least better described) using its subtitle, "Tales of Strangeness and Beauty" as the title. These stories are definitely the opposite side of "a picture is worth a thousand words"; that is, the authors are all quite adept at drawing lovely pictures with their words. And if you're looking for beautiful word pictures, this is an excellent collection. But if you're looking for more stories, you may find the content suffering a bit. Several of the contributors were able to combine the two, drawing lovely pictures and telling captivating stories, but not all.
Norilana Books markets Clockwork Phoenix as fantasy. If, for you, the term "fantasy" encompasses all possible literature of the fantastic, or "fantastika" as the Russians say it, then I suppose that fits. The boundaries I set had to do with avoiding or subverting conventional storytelling techniques, avoiding conventional settings, avoiding conventional plots, rather than telling one particular kind of story particularly well. I wanted an anthology that would blur and ignore boundaries without making any assertions about what the reader should expect from the experience. (Try explaining that to a writer who asks at a con what sort of story you want.)
I wrote "introductions" that were basically prose poems intended to set mood and tone rather than enlighten, and buried my own ideas about the books' purpose, to the degree they had one, in my bio at the very back of each volume. With my wife Anita, who is incredibly talented at arranging, I ordered the stories in each book to form a kind of meta-narrative, with those introductions providing hints as to how to look for them.
Not every story we picked can be called "interstitial." Not remotely. Much of the individual recognitions have gone to tales that can be said to be pushing in new directions or against the grain within their genre, but are most definitely of their genre — few would argue that Vandana Singh's "Oblivion: A Journey" isn't science fiction, or that Saladin Ahmed's "Hooves and the Hovel of Abdel Jameela" isn't fantasy or that "each thing I show you is a piece of my death" by Gemma Files and Stephen J. Barringer isn't horror.
That slippery stream

Yet I'm also proud to be able to play host to stories that one could read and at the end, wonder what on earth one had just read, wonder where they fit in things: tales like John Grant's "All the Little Gods We Are," Leah Bobet's "Bell, Book, and Candle," Jennifer Crow's "Seven Scenes from Harrai's Sacred Mountain," Deborah Biancotti's "The Tailor of Time," Claude Lalumière's "Three Friends," Catherynne M. Valente's "The Secret History of Mirrors," Steve Rasnic Tem's "When We Moved On," Georgina Bruce's "Crow Voodoo," Gregory Frost's "Lucyna's Gaze," on and on. And some of those pieces haven't done so badly in the recognition department either.
As for the books' reception — I have absolutely nothing to complain about, and I want to clarify that this entry isn't meant as a complaint. The books were targeted mainly at genre readers, who generally proved themselves a pretty open-minded bunch. But some did seem puzzled as to what exactly the books were. Former Asimov's Science Fiction editor Gardner Dozois reviewed all three volumes in Locus, which made for a fascinating progression.
Clockwork Phoenix, edited by Mike Allen, is a mixed science fiction/fantasy anthology, with a few slipstream stories thrown in for good measure.

Last year's Clockwork Phoenix was divided between science fiction and fantasy/slipstream, but there's little science fiction in Clockwork Phoenix 2, which has more fantasy, and a lot more slipstream, which makes it less substantial for me than its predecessor.

Also on the shelves is Clockwork Phoenix 3: New Tales of Beauty and Strangeness, edited by Mike Allen, a mixed slipstream/fantasy/science fiction anthology of original stories. The stories here are elegantly written, as usual, but, somewhat disappointingly for me, the ratio of SF to slipstream/fantasy continues to slip; the original Clockwork Phoenix was divided almost equally between SF and the other genres, but, as was also true of Clockwork Phoenix 2, there's not much science fiction here anymore, and not even really that much fantasy, slipstream having pretty much taken over.
For the record, Locus reviewer Rich Horton has also resorted repeatedly to the word "slipstream" when describing Clockwork Phoenix, as did Tangent Online reviewer Bryan Thomas Schmidt. (I don't want to paint a picture that's too lopsided. Other reviewers, such as Hannah Strom-Martin at Strange Horizons and Amal El-Mohtar at SF Site, have reached instead for words like "weird" and "unique." One by Terry Weyna of SFRevu.com even used the word "interstitial"!)
At the Interfictions panel at ReaderCon in 2007, well before the Clockwork Phoenix books existed, I asked Theodora Goss and the other panelists what the difference was between "interstitial" and "slipstream." They had an answer — that "slipstream" refers to a specific type of story in which the fantastic intrudes on a story's reality in a disquieting way, whereas "interstitial" refers to stories that can't easily be pigeonholed in a single genre. Obviously, there can be some overlap.
A cutting edge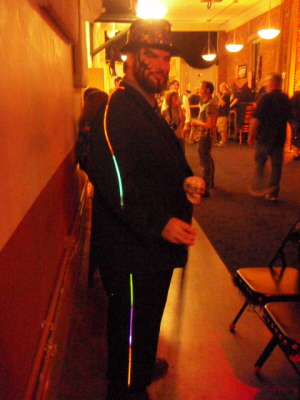 But I read the use of "slipstream" here, not as a reference to a particular approach, but as a catch-all term for "I don't quite know what that was." And I can't help but take a lot of pride in having produced something so well received that at the same time gives others the problems I have when describing it.
So what's your point, Mike?
What do you mean?
I mean, you've rambled for at least two OpenOffice pages about your own project. Do you have a point? What is this, some sort of Final Statement?
Well, no, that's not what this is. It's more of a meditation on taking on an interstitial project. What I mean to say is, yeah, there are risks, but if you're willing to take them, willing to risk the confusion and the struggles with labels that aren't truly needed to begin with, then there will be rewards both for you and for the few and proud who come to explore what you're doing.
Isn't that obvious? Did anyone really need you to tell them that?
I suspect so. It's surprising, I know, but some points just can't be made often enough.
Doesn't all this waxing philosophical about defying categories make you a hypocrite? You work in journalism. That's all about using labels for communication shortcuts.
No it isn't. Not if you do it right. When explaining the unfamiliar, you have to think in terms of what people are most likely to know about. So you start there, yes, but then you lead them from that place and carefully explain how something unfamiliar works.
Did you do that with Clockwork Phoenix?
No. The Clockwork Phoenix books drop you right into the weirdness, sink or swim. There's no hand-holding.
Why?
Because for me, it was more important for the books to hold together as works of art than it was to ease readers into what I was doing.
Is that your point?
I keep telling you, I wasn't setting out to make a point—
Here. Let me show you what a point looks like.
Whoa, Mike, calm down.
Here's what a point looks like, UP CLOSE.
Ah [-dfun †p
AND AGAIN.
    Aph9se4ru y•[hps8g;                    h;•°iaeb bpiklp,  9yhpΩ
And in case you still want to fancy you're on the cutting edge, here's what THAT'S like.
.......................     ..............     .......   ....... . . .      .     .
Now then. I think there is a point to be made from this, which is, just because you don't see anyone else doing something, you shouldn't assume it can't be done. In fact, you might well be the only one who can take care of business.
I have some cleaning up to do. But don't let that scare you off. Leave me your stories, please, please, about your own adventures in the in-between.
And come back tomorrow, for even more Interstitial March Madness.