Shapeshifting prose: an interview with writer Nicole Kornher-Stace
by Erin | March 7th, 2011 |
(Eds. note: Booklist called Nicole Kornher-Stace's debut novel Desideria "an exceptionally well-crafted debut [that] delivers a spellbinding tale of deception, betrayal, and the darker possibilities of playacting," while Realms of Fantasy opined "It's unlikely you'll read a more unusual novel this year." Among other genre-bending tactics, her novel contains a full-length play. We asked her to talk about the trials and triumphs of writing the unclassifiable.)

Who are you, and what do you do?
I'm Nicole Kornher-Stace. I've been reading and writing since I was two, and I haven't really figured out how to stop. As well as a bunch of poems and short stories, I have three books out: Desideria (Prime, 2008), Demon Lovers and Other Difficulties (Goblin Fruit, 2009), and The Winter Triptych (Papaveria, 2011).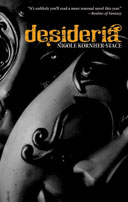 Desideria is a sort of darkly magical realist, alternate-17th-century, not-quite-a-murder-mystery novel with actors and thieves, a madhouse, a city-as-character, and a full-length, five-act play embedded inside. Demon Lovers is a chapbook of poetry exploring the crossroads between folkloric motif and real-life application: the places where those two worlds dovetail gently and the places where they collide.
The Winter Triptych is a very, very oblique dark retelling of Sleeping Beauty but also a sort of mash-up of various fairytale tropes, where the witch leads a revolution, the huntsman is the monster (and the princess is too), and the scullery-maid rescues herself. Oh, and also there's time travel. And shapeshifting. Hmm. I seem to write a lot of shapeshifting in general. Also revolutions. But one of the things I really love working with is the whole mythpunk movement, which I've been doing since I was twelve or so, all unknowing that in another few years it'd become a Thing. I like to look at myths, folktales, fairy tales, ballads, and flip them upside down and look into the guts of 'em. See how so many perfectly mundane human issues are caught up in their depths. And then get in there and mess around.
I also have a Changeling, two ferrets, and an imaginary friend. Never had one as a kid. I guess I'm making up for lost time.
Has being interstitial (i.e. creating a project that falls outside recognized marketing categories) created difficulties for you? If so, how?
Oh my sweet hell yes. 99% of my rejections go something like "Hey, this is awful shiny but it's not quite our thing." Editors who prefer fantasy will direct me toward editors who prefer sf, or horror, or "literary fiction." And I'll submit to those recommended editors, and they'll send me back where I started, and for the same reason. My stories are too dark or too "literary" for fantasy venues, too myth-oriented for horror venues, etc. For instance, I have this one story I sort of love (and that's pretty rare for me), called "On the Leitmotif of the Trickster Constellation in Northern Hemispheric Star Charts, Post-Apocalypse," which rather annoyingly straddles the line between fantasy, sf, horror, and "literary," and I still can't figure out what to do with it.
My other problem is every time I try to write a simply-structured, linear story, it runs off and climbs up out of my reach and starts mutating into something unsellable. Oddly-structured stories are a weakness of mine. I love to read them and I love to write them. But they aren't easy to publish. (And, as far as my experience goes, podcasting is right out — a story structured around details in a painting, or the astronomical data of made-up constellations, or a novel with a five-act play stuck in it … unsurprisingly, the general consensus seems to be that translation to audio would be disastrous.)
My first published short story was an odd little dissection called "Pieces of Scheherazade," where she'd run off, holed herself up in a cave, and tattooed her last story on her body, all out of order. The story was told out of order, each section headed by an itemization that some archaeologist had made, describing his discovery of her. You're literally reading a handful of dropped puzzle pieces and it's up to you whether you want to put them in order. Somehow this got published, reprinted in Best American Fantasy, and nominated for the Pushcart. Beginner's luck; it's real.
Right now I'm working on a novel that's a steampunk/mythpunk blend with a Lady Explorer, a fake Tarot, a possessed airship, a workers' rebellion, and maybe a Tam Lin retelling starting to surface amid all that — and also a novel that's a post-apocalyptic Golden Bough katabasis story, with ritualized combat, structural nonsense, and archivists who piece the dead world's history by catching ghosts with saltlicks. I'm not exactly holding my breath for bestsellerdom. But they sure are fun to write.
What strategies have you used to get around this? What advice would you give to another interstitial artist in a similar position?
I'm still trying to figure it out. Luckily there are a lot of editors out there who aren't afraid to look at the weird stuff, and I'm sure I've made a nuisance of myself to most of them. As for advice, the idealist sleeping in the corner of my jaded heart wants to tell everyone to stay true to what they are and what they make, and that there are people out there who will love it fiercely for exactly what it is. It's a hard road, and not the most lucrative by far, and I'm still trying to find my place on it. At the end of the day, though, I'd rather write books that resonate strongly with a small group of people, instead of books that a large group of people buys, maybe reads, maybe doesn't, and puts out at next summer's yard sale for a dime. People tell me that they can pick up anything I've written, not knowing it's mine, and recognize me in it within a sentence. I love that. Most days I love it more than the prospect of fame and fortune. Which is convenient.
If you could change one thing about the situation, what would it be?
Ooh. Well, I mentioned that more and more editors seem to be opening up to looking at the inbetweeny stuff, and a continuation of that would be most lovely. But if we're wishing for ponies here, I'd love to see less of a general … fear? contempt? tl;dr reflex? toward language. I'm constantly seeing language-oriented writers being accused of disguising poetry as prose, of being too wordy, too descriptive, too weirdly structured, too opaque. (And for that matter, many magazine reviews I see lately either ignore the poetry or sort of nod at it and say something like "I wanted to like this poem, I'm sure it's a great poem, I just don't like poems. Why don't you write a story instead? I like stories.") I don't know if it's a symptom of a general lowering of attention span in the Twitter age or … I don't even know what. The assumption seems to be that "attention to language" equals "long-winded" or "overwrought." The trend seems to be toward the "accessible," the "transparent," the unadorned,  unembellished, straightforward, linear, conflict-resolution-dénouement with standard narrative arc and structure pure story. Many of those stories are perfectly awesome, don't get me wrong. But we seem to be heading toward a place where writers who want to play with words or structure are supposed to only do so in poems — which many readers pass up categorically. And where's the fun in that?